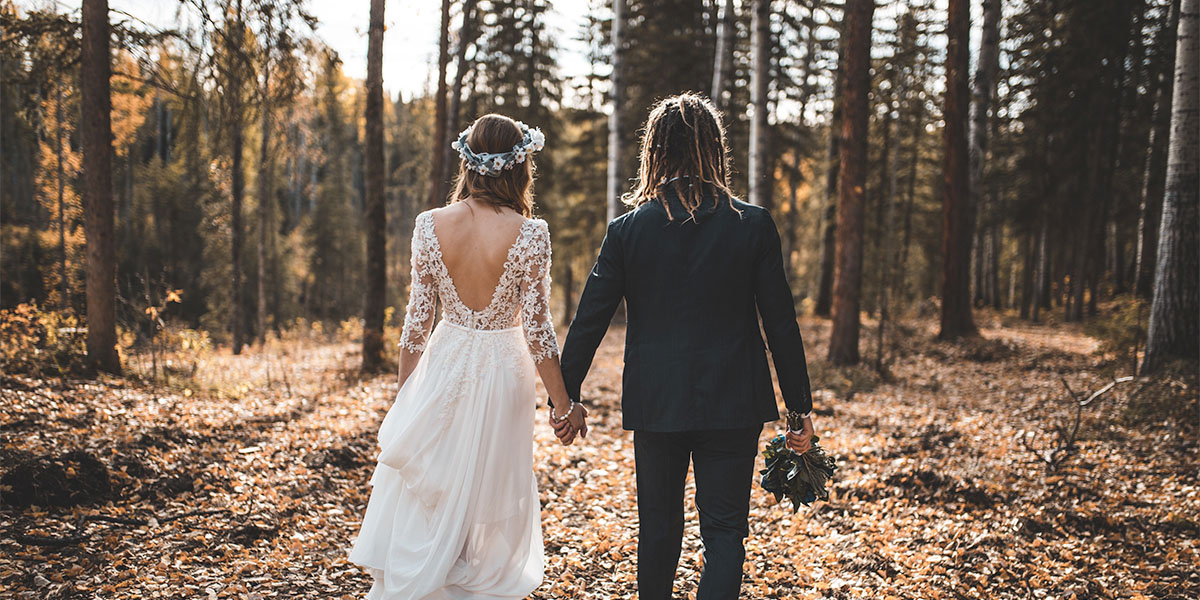 The crisp fall weather is rolling in, and with it come the elegant and beautiful weddings that so many of us are looking forward to this year. The season will bring a unique touch to each autumn wedding and draw family and friends closer together. You can make your big day even more magical by incorporating some of these dazzling wedding ideas.
Many exciting trends are on the rise this year, from flowers to desserts to a grand wedding send-off. Check out these beautiful fall wedding ideas from Sparklers.us to transform your big day.
1. Incorporate DIY Details
Weddings are intimate settings, and many happy couples opt to get creative and personal with decorations, invitations and party favors. You can craft your own save-the-date papers to add a hand-made touch to your day. Using wedding colors and incorporating details that pair with your theme is an excellent way to give the guests a taste of what's to come. You can construct paper flowers instead of buying a bouquet or centerpieces. To celebrate and recognize your guests, you can create party favors for your loved ones to enjoy.
To make this even more fun, you and your fiancé can invite the wedding party to help you craft new ideas. Make a night or a weekend out of it by offering wine, talking about the big day and having your favorite music in the background. There's no right way to craft DIY details, so make sure you just have fun.
2. Find the Right Flowers
Choosing your flowers can be a fun decision in wedding planning. As summer flowers fade, a new, bright array of blooms will spring up. Some excellent fall wedding bouquets feature:
Garden roses
Orchids
Dahlias
Calla lilies
Pampas grass
Amaranthus
Succulents
Chrysanthemums
You can find most of these flowers in a large selection of colors, giving you plenty of options to match your wedding colors or embody the essence of fall. You can also use fall sparkler centerpieces to highlight table bouquets and other blooms around the venue. With these party favors, each table can shine and your guests can admire the dazzling show around them.
3. Make a Grand Entrance
There's no better way to jump into the festivities than with an eye-catching entrance. Your first entrance as a newly married couple is a significant cause for celebration, so emphasize the excitement everyone is feeling by crafting a memorable display.
Many grand entrances feature dancing couples, bridal parties showing off funny moves or a sophisticated sweep right into the first dance. However, using wedding sparklers is a simple yet stunning way to capture a picture-perfect grand entrance.
Outdoor venues can feature sparklers in pumpkins, crafting a seasonal walkway for the happy couple. Set a pumpkin at the end of every table or row of seats you'll be walking down, and let the light wash over the happy couple as you join your closest friends and family members. If you want an intimate walkway or if you're using an indoor venue, have the bridal party hold sparkles and create a tunnel for the newlyweds to walk through.
4. Create a Photo Booth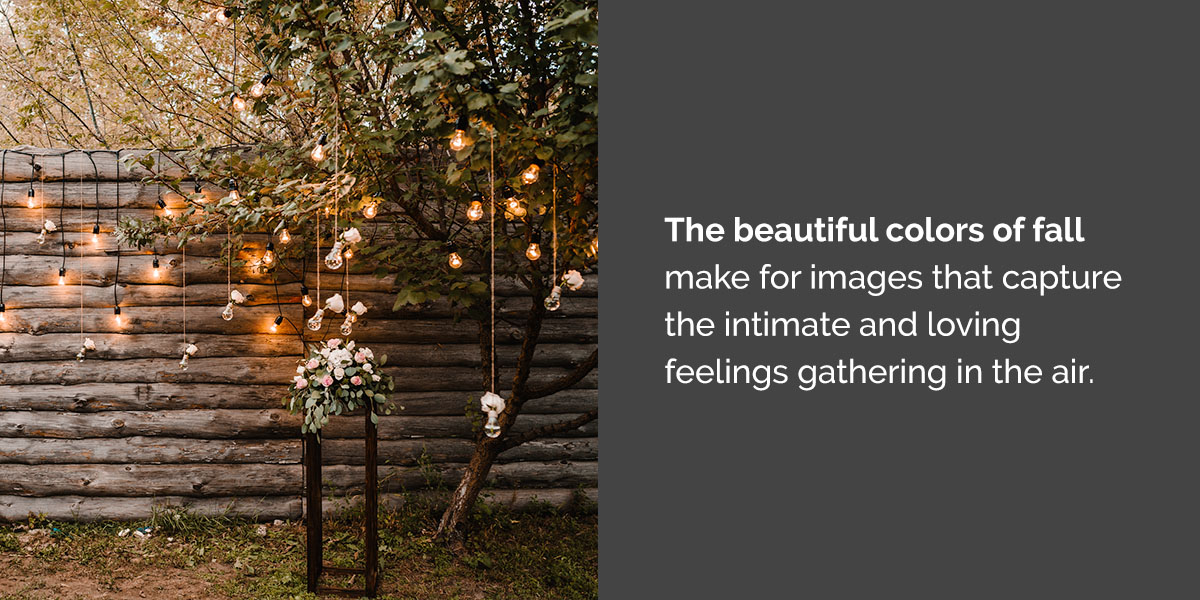 Photo booths have been a rising trend for a while. The beautiful colors of fall make for images that capture the intimate and loving feelings gathering in the air. You don't need to craft an entire booth if it's not within your budget — you can still create elegant photo walls for the guests to take memorable photos.
Line the photo booth area with tons of props. Everything from silly mustaches to dazzling heart sparklers can create a sense of whimsy and fill every picture with a personal touch. Have an array of pumpkins to fill the screen or line the walls with your wedding colors and flowers to reflect the theme.
5. Serve Delicious Deserts
The sweetest part of this amazing day is the kiss that seals the couple. The second sweetest part is the stunning cake. After crafting a delectable menu, the next step is finding delicious desserts to pair with them. Whether you're opting for mini cakes, offering a plethora of desserts or having a traditional wedding cake, there are many ways to make dessert more personal and unique.
Some fall wedding cake and dessert trends include:
Bold statements: Classic white is no longer the go-to. Couples are opting for vibrant colors and eye-catching designs. Match your cake with your wedding colors, or opt for rich textures and uneven tier heights.
Mini cakes: After the pandemic, many people decided to celebrate separately. Instead of having one large cake to share, offer guests a personal mini cake to enjoy.
Cake hoops: Non-traditional stands are on the rise and one of the more popular choices is a cake hoop. These hoops are typically wooden rings that showcase petals, greenery or other standout pieces.
Sugar flowers: Although subtle cakes were among the top trends in previous years, couples are moving back to elegant and decorative cakes. Sugar flowers add a unique texture to wedding cakes and offer a personal touch.
Cake sparklers: With a burn time of up to 50 seconds, cake sparklers are a brilliant way to transition from the meal to the dessert.
6. Have a Sparkling Send-Off
You can create a sparkling fall wedding send-off by having friends and family hold wedding sparklers. As the night gets darker and you prepare to leave, a bright show of flashing lights will reflect the sparks you feel on this magical day. Choosing the right-sized sparklers to line a path to the next chapter in life is an intimate and romantic way for the guests to celebrate.
You can also have the guests throw colored confetti as the couple heads off to start their new adventure. As the shimmery pieces flutter in the area, they'll create a flurry of confetti that includes everyone in the celebration. You can capture unique and magical photos with the newlyweds showered in bright colors and festive glimmers.
Celebrate Your Big Day With Sparklers.us
Sparklers.us is your one-stop shop for celebrating all of life's big moments. We know that details highlight beauty, and our supplies add the special touch you want for unforgettable occasions. From golden party supplies to vibrant confetti, we can help you add those finishing touches to your next big event.
Incorporate sparklers into your wedding day. With us, you'll be able to choose between sparklers in three different sizes, so you can use them any way your heart sees fit. Showcase your cake, create a grand entrance or part with your guests in an elegant glow. No matter what you decide, our sparkler deals are like no other.
Browse our wedding products and find the perfect match for your wedding to create a truly unforgettable occasion.