Posted by Sparklers.US on on Feb 12th 2020
Congratulations! Your best gal pal just made you her maid of honor. You're beaming at the thought of standing by her side, literally, on her big day — that is, until you remember you're in charge of planning the bachelorette party.
Don't sweat. Our list of ideas will help you throw a good bachelorette party to fit any bride and budget — whether the bride-to-be is adventurous, intellectual, hipster, intellectual or totally classy. Now all you have to worry about is setting the bar too high for the next maid of honor in the squad.
For the Wild-at-Heart Bride
She's lively, active, on-the-go and vivacious. These bachelorette party ideas for your wild bride are sure to match the free spirit of your friend — while also letting everyone else in the party let their hair down a bit:
Paragliding: Soar through the sky by signing up for a paragliding course or session. Trained professionals will pilot you through the air while you sit back, relax and soak in some incredible birds-eye views. It's a far more approachable outdoor bachelorette party idea than something like full-out skydiving, yet it is sure to get everyone's hearts pounding.
Paintballing: This is not just any ole' round of paintball, though. Consider shopping at local thrift stores beforehand and buying the craziest, wackiest, weirdest dresses or outfits you can find — then hitting the course to hit each other with exploding bursts of color.
Trapeze party: Swing into a great night with your own trapeze lesson booked at an aerial course or local gymnastics studio. You and your friends will learn how to launch, leap, twist and tumble under the tutelage of a trained expert (plus the safety of harnesses, of course).
Horseback trail riding: Let your "wild-at-heart" bride live out her Wild West fantasies with horseback trail riding reserved at a local state or national park. Some parks and nature reserves offer these tours themselves. Alternatively, you can reach out directly to a ranch to see what kinds of riding experiences they host.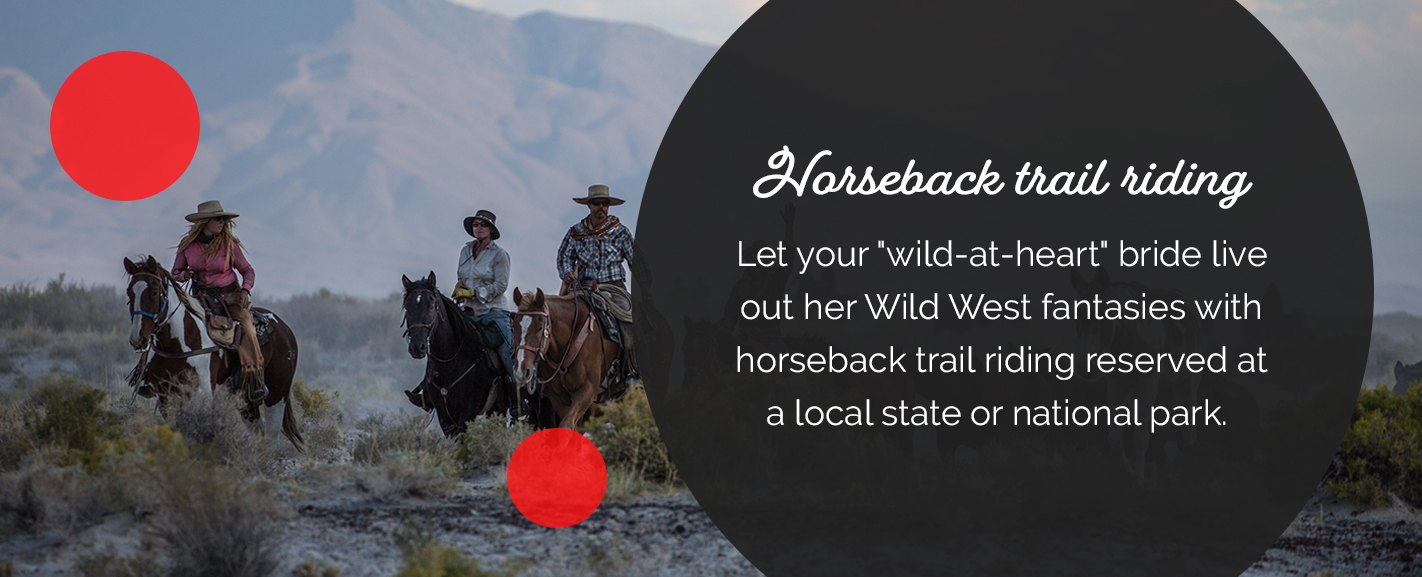 For the Intellectual Bride
She's thoughtful, observant, curious and a connoisseur of trying and understanding new things. Honor that friend who's a lifelong learner with these equally unique bachelorette party ideas satisfying both the head and the heart:
Live-drawing class: Private live-drawing courses in your area may come with an instructor giving pointers and drawing tutorials. On the other hand, you could wing it and have an artistic experience determining who's the real Picasso in your squad.
Night at the museum: Harness your inner Ben Stiller and spend the night at a local history, science or art museum. Contact the museum's event coordinator to see what additional events or amenities you can tag onto the experience, such as backstage tours or a meet-and-greet with one of their conservationists, historians or curators.
Interact with animals: Reach out to an area zoo, animal shelter or conservation park for a behind-the-scenes private tour with the wildlife. Ideas could include feeding penguins, swimming with sea lions or spending the afternoon in the aviary as instructors get you up close and personal with mother nature.
Cooking class: Cooking class themes and niches are endless. Try picking one of the bride's favorite cuisines, then research private chefs or instructors to come to your home or apartment and guide the party through homemade pasta, sushi, curry, chocolate truffles or whatever your tastebuds desire.
For the Hipster Bride
She's unique, open-minded and invested in experiences rather than run-of-the-mill partying. Discover some of the trendiest bachelorette party ideas for that cool, hipster bride:
Off-the-beaten-path wine/beer/distillery tasting: We're not talking IPAs and rosé here. Your counter-cultural friend needs counter-cultural drinks as one-of-a-kind as she is. From trying craft moonshine to tasting select organic orange wines, pick an experience with beverages piquing your curiosity as well as your tastebuds. Wallet-friendly party favors matching this beverage-centric bachelorette idea are a must.
Vintage motor-sidecar scavenger hunt: Pair up all ladies in the bridal party, then scour your hometown in a fast-paced motorcar adventure with the winning team checking off all destinations first. This bachelorette party idea may take a bit of extra planning, but it's more than worth it for a day of exploring — plus the Instagram-worthy selfies in your cute sidecar.
Yoga and breathwork retreat: The bride, in particular, may enjoy letting go of some wedding-planning stress while the rest of you improve mobility, flexibility and pick up some new stress-management tools.
Music festival: Sure, you've got your name-brand ones like Stagecoach and Lollapalooza. Check out event schedules and dates for smaller, regional music festivals, though, for a budget-friendly but memory-filled alternative. You can also search tour dates or upcoming shows for one of the bride's favorite bands, then surprise her with group tickets.
Psychic readings: From tarot cards to palm readings, connect with a higher dimension via a private booking with a local psychic. Just keep your fingers crossed the psychic doesn't predict a lousy marriage for the bride.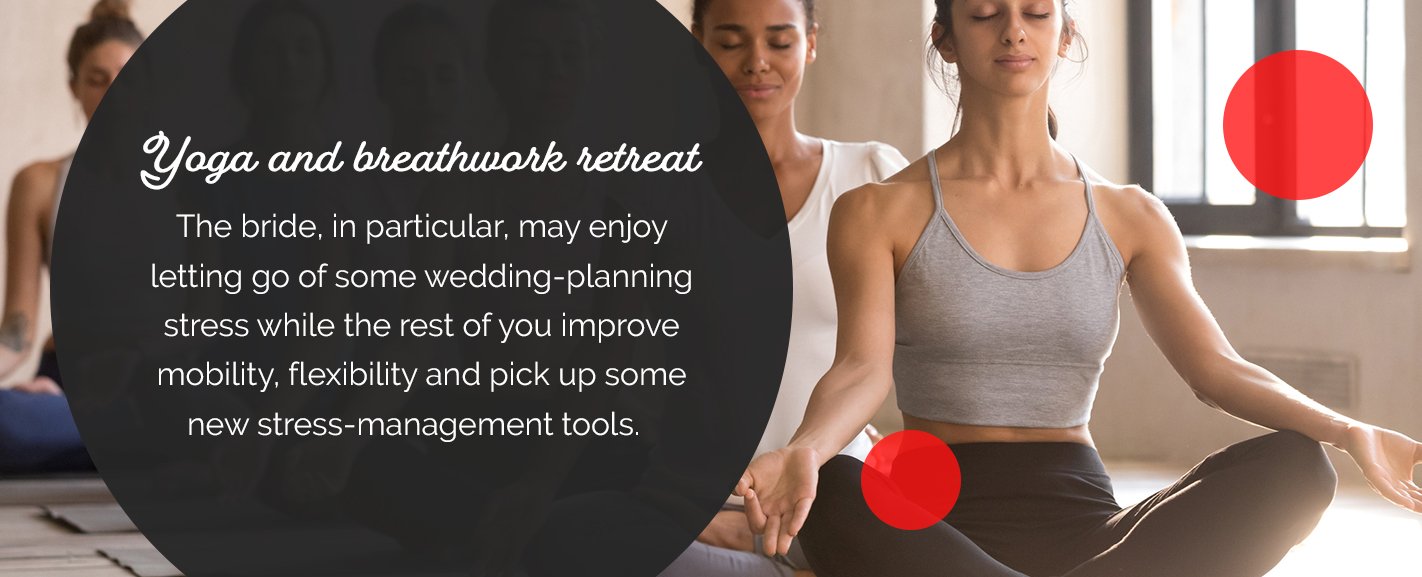 For the Classy Bride
She's cool, confident, elegant and ready for a memorable pre-wedding celebration with her best friends — sans those stereotypical "crazy" nights out.
If this fits the description of your friend, then consider any of these classy, upscale bachelorette party ideas:
High tea: Fancy dresses, pastel color schemes and fine china are a must. Search for high tea experiences in your city with all the freshly brewed cups, cucumber sandwiches and clotted-cream scones your white-gloved hands can hold. Bonus points: Give out custom parasols for the whole squad to shade themselves while sitting in the garden.
Cocktail-making: Make signature cocktails under the guidance of a certified mixologist at a trendy craft bar in town — or at the bride's favorite beverage spot. Your creations may turn out so delicious they end up on the wedding-day menu!
Visit a hot spring: Level up the spa-day bachelorette party staple into it a bigger and better version — a hot springs excursion. You and the girls can take soothing, mineral-rich dips in the springs, get cleansing mud baths and enjoy the calming day marrying nature with luxury.
Fragrance-making: Mix your own signature scent with a fragrance party held at your home or an upscale rental, adding to the ambiance while also taking care of the bachelorette party favor.
Rent a limo: Cruise around in style all day long with a private limousine service. Start by pouring champagne into customized glasses while you're chauffeured to an elegant brunch. Where you go from there is up to you — just know you'll arrive like celebrities.
Throw the Best Bachelorette Party on Any Budget
We get it. Wedding and bachelorette party planning is hard. But with help from Sparklers.us, your online destination for all celebratory and special-occasion decorations, you can focus on the fun throwing your friend a bachelorette party she'll remember.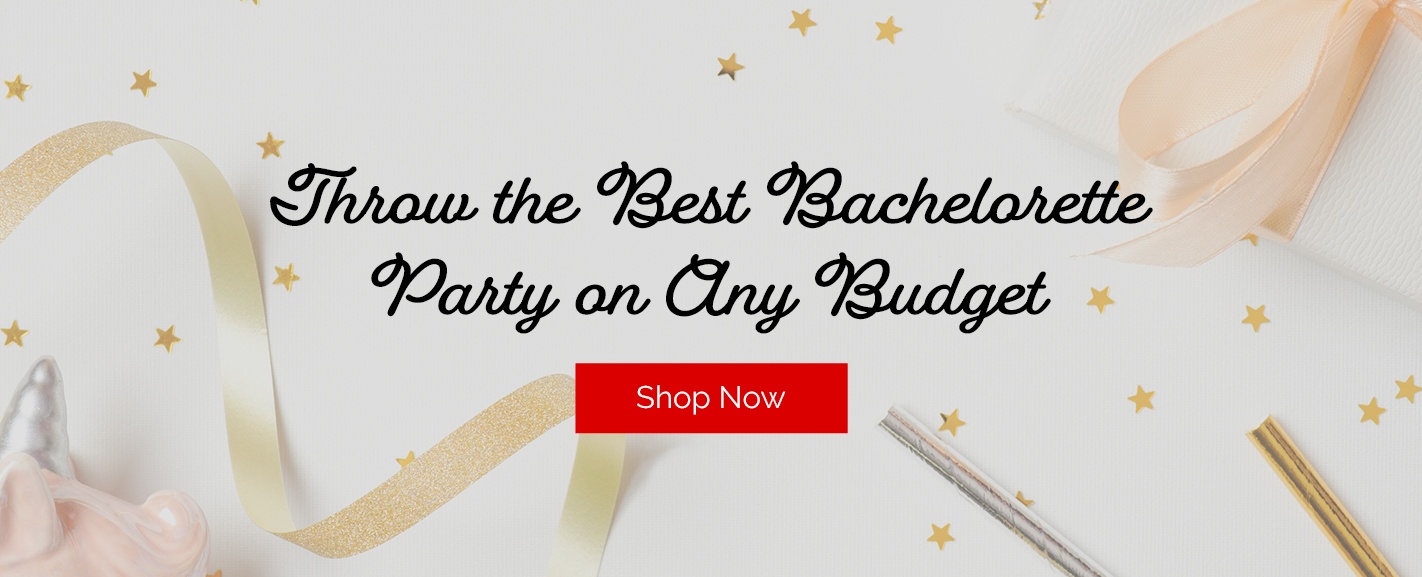 Whether you are looking for low-key bachelorette party ideas or something more high octane, Sparklers.us is here to deliver all the decorations, decor and bachelorette party favors you need to plan that perfect pre-wedding bash. Plus, we have more customizations than many traditional party stores. Explore our bachelorette and bride squad merchandise today.