Posted by Sparklers.US on on Dec 4th 2019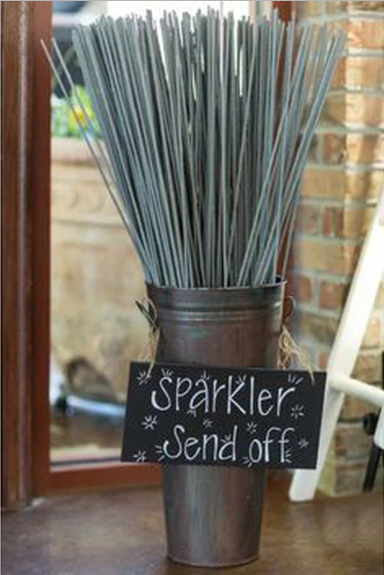 The sky's the limit when it comes to displaying sparklers at your wedding reception. Sparklers will provide a stunning exit for your special day. Whether you want to add an elegant touch to the bride's entrance, first dance, or your wedding exit send-off for the bride and groom, sparklers are the way to go!
If you're planning on using sparklers for your wedding, make sure everyone knows when and how to use them. The best way to encourage the ultimate sparkler entourage is to display them as centerpieces where your wedding guests will be sure to spot them.
Use Various Sized Sparklers in Your Wedding Reception Display
At Sparklers.us, we offer sparklers in 6, 10, 12, 20 and even 36-inch sizes. Because all our sparklers are smokeless, you can take bright, flawless photographs at any time you'd like! For wedding send-offs, we recommend 20-inch or 36-inch sparklers because they burn longer and give your photographer more time to capture your special moment. To help you plan ahead, check out the burn times for our various sparkler options:
36-inch wedding sparklers: These last approximately 180 seconds and produce beautiful golden sparks. For these sparklers, we recommend using a container you can set on the ground due to their long length. Try placing them in tall vases or display buckets at the guest book table or hanging them from a rope.
20-inch wedding sparklers: These high-grade steel sparklers burn for 120 seconds. Centerpieces are a great way to distribute these sparklers, and they fit nicely in most mason jars and display buckets due to their height.
10-inch wedding sparklers: Sparklers that are 10 inches long remain lit for 40 seconds and are a popular choice for display buckets and centerpieces. They're inexpensive and easy to display since they're so short.
12-inch heart sparklers: Another popular choice for display buckets and wedding reception centerpieces, 12-inch sparklers burn for 55 seconds and are heart shaped to add flair and fun.
How to Display Wedding Sparklers
Wedding sparklers have replaced rice, streamers and even confetti in recent years to become the new send-off tradition — and for good reason. With sparklers, you'll have a mess-free reception and plenty of dazzling pictures to remember your big day for years to come. Once you decide on the size of your sparklers, the logical next step is to plan how you'll display them. To showcase your sparklers in a way that's both functional and stylish, try:
Filling the bottom of one of our galvanized sparkler buckets with sand. This way, when you fill your bucket with sparklers, it will stay upright for the entire reception. Our wedding bucket displays are 15 inches tall and can hold 100 36-inch sparklers.
Decorating your wedding sparkler centerpiece with sparkler tags for an elegant, simple look. Our beautiful sparkler tags are cost-effective and display phrases like, "thank you for celebrating with us" and "let love sparkle."
Weighing down a couple of wide-mouthed mason jars with sand. Place these displays where your guests will have easy access.
Sand is perfect for keeping either a display bucket or mason jar upright at a wedding reception. Sand buckets also give your wedding guests a safe place to place the wires after they've burned.
Get Your Sparkler Display Buckets at Sparklers.us
At Sparklers.us, we offer wedding decorations and party supplies at unbeatable prices. Sparklers add a magical element to your special day, and you'll enjoy stunning lighting effects with our wedding sparklers. Take advantage of our wedding package today or browse our selection of galvanized buckets and sparkler tags for a dazzling wedding display. Call us at 1-800-750-2980 or reach out to us online with any questions one of our representatives will be happy to assist you!