Posted by Sparklers.US on on Nov 5th 2019
No wedding is complete without a proper send-off. Friends and family throw their blessings and usually some tossable accessory at the happy new couple — a beautiful end to the perfect ceremony.
While rice is a time-honored tradition, it can be old hat by now. If you want a truly unique wedding, consider something special for your exit, like sparklers or sky lanterns. Below, we list some of our favorite wedding send-off ideas. And don't forget that you actually get two opportunities for your grand wedding exit! The chapel and the reception are both possibilities to enact these unique wedding send ideas.
1. Sparklers
Sparklers are a classy, beautiful approach to closing out your perfect day. Seeing sparks flying — in more ways than one — creates a breathtaking scene. Your photos will thank you for the gorgeous background and the vibrant lighting. You don't have to use regular sparklers either. We have special heart-shaped sparklers for an extra-romantic touch and longer 36-inch sparklers to hang around the couple for a beautiful draped effect. Those sparklers last up to 180 seconds.
Sparklers are affordable and easy for your guests to use. Have your guests shower you in light for a unique and affordable send-off.
2. Confetti
Take mini champagne poppers to the next level with massive confetti cannons. A big confetti popper will envelop the happy couple in a beautiful cloud of shimmering confetti. You can achieve a grand effect with just two cannons and trustworthy guests, or you can give all your guests mini champagne poppers or flick sticks, which are set off with just a flick of the wrist.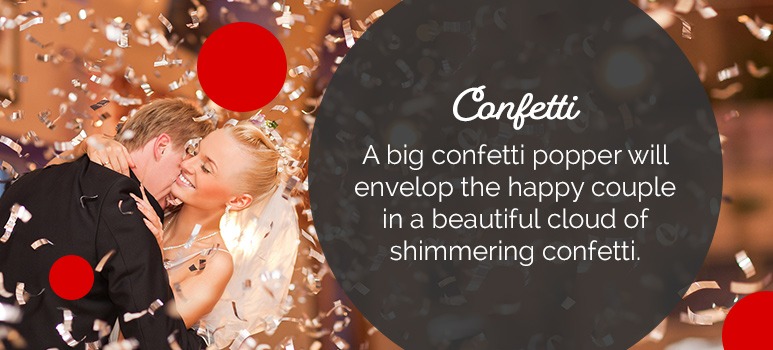 If you do use confetti, make sure it is biodegradable to avoid any harm to the environment. You may also need to check with your venue and ensure that it is allowed.
3. Balloons
Have your guests release balloons into the air, creating a lovely display as your balloons reach the skies. If you do release balloons, make sure they are biodegradable. You can also have balloons in the background, grouped or spelling out words or initials. Incorporating your wedding colors here can provide a nice tie-in to your theme.
4. Sky Lanterns
Sky lanterns are a whimsical way to create a unique wedding send-off. Imagine a hundred lights filling up the sky with a peaceful glow. You can even go for a more romantic approach and have just the couple light and release the lantern. Letting only the bridal party in on the fun can also keep costs down. If you choose to have the entire guestlist release a lantern, it can be pricy but creates a breathtaking sight. Again, you'll want your lanterns to be biodegradable, and you may want to check with local authorities to make sure it is legal in your area. The cost of these lanterns can vary, but they typically become cheaper if you buy multipacks. Organizing the lantern release can also take some coordination.
5. Bubbles
Bubbles are one of the least complicated wedding send ideas. Simply distribute them to the guests and have them create a fanciful display of light-catching bubbles. It looks great, and it is easy for kids to take part in too. One fun part of bubbles is that you can store them in tubes that guests get to take with them as a favor from the wedding. These tubes can be very inexpensive. You can also personalize them with your colors, names or the wedding date for an even more unique addition.
6. Glow Stick
If you have a night wedding or do your send-off after the reception, glow sticks can add a striking pop of color to your photos and create a unique lighting effect that shows through in the pictures. Glow sticks make your send-off a vibrant, exciting occasion and work well after the reception since they create a night-life vibe.
Glow sticks also photograph well, because they blur when people are moving them quickly. This movement means that the couple will show up in the midst of a blur of color. Part of the popularity of glow sticks is due to their low cost. You can purchase hundreds of glow sticks relatively inexpensively.
7. Lavender
Throwing dried lavender buds is an excellent alternative to rice. A lavender wedding toss adds an extra element of smell to your send-off, covering the area in a lovely fragrant scent. They are also biodegradable, of course, and environmentally friendly. You can find premade lavender cones and tubes online, or you can make your own, using about a 1/2 cup per guest.
8. Instruments
When it comes to a melodious send-off, you have several options. You can ring in the new relationship with wedding bells, and cowbells are the perfect addition to a rustic barn or farmhouse ceremony. Maracas, tambourines and kazoos give guests a fun, musical option to send off the newlyweds. They also make great keepsakes for guests to take with them.
9. Smoke Bombs
Even though they don't explode, smoke bombs can still help you go out with a bang. With the brilliant colors that smoke bombs create, they have become a favorite of photographers everywhere. You can select these vibrant fireworks to match your wedding colors, the scenery or something else. If your venue doesn't allow smoke bombs, an alternative is to use color powder.
10. Flower Petals or Leaves
We've mentioned using lavender, but there are other options for natural throwables. Flower petals, particularly red or white roses, look beautiful and classy. The way they flutter makes them perfect for photos as they drift in front of the couple. If you have a fall wedding, colorful autumn leaves give you warm, natural colors. Plus, both options are environmentally friendly. You can offer flower petals and leaves in a few different ways. You can fill up individual cones or tubes, offer a flower petal bar for guests to fill their containers or even provide "petal poppers" filled with petals like confetti cannons.
11. Beach Balls
Beach wedding? Have guests toss beach balls around you for a tropical touch that will leave you wanting the sand long after the pictures are taken. You can even pick out beach balls that match your wedding colors or use mini balls that guests can take home afterward. You can also pick less traditional beach balls, such as clear ones with confetti or lights inside. You can often find inexpensive beach balls if you buy online in large packs.
12. Snow
If you've opted for a cool winter wedding, have your guests throw fake snow over you for a soft, elegant effect. The snowflakes will look beautiful in the camera lens, and you really capture the essence of the season with something like this. You can find fake snow in craft and home improvement stores.

For several of these creative wedding send-off ideas, you can turn to Sparklers.us. We offer a variety of wedding sparklers, balloons and confetti. Some of our sparklers burn for over three minutes, and our confetti cannons bring a gorgeous pop of color to any ceremony, making them very photo-friendly. Both come in various shapes and sizes.
With a quality product and free shipping over $50, Sparklers.us is your source for the supplies for a grand wedding exit. Browse through our wedding products today to find ones that will take your send-off to the next level.